yakʔitʸutʸu

 yakʔitʸutʸu is proudly named in honor of and in partnership with the Northern Chumash, the Indigenous Peoples of San Luis Obispo County. Each residential hall is named after yak titʸu titʸu yak tiłhini Northern Chumash tribal locations throughout the Central Coast region.
The seven halls are:
Bldg. #
Name
Site 
Meaning
A
tsɨtkawayu
Cambria
Place of the horses
B
elewexe
Paso Robles
Named for swordfish
D
tšɨłkukunɨtš
Carrizo Plain
Place of the rabbits
C
tiłhini
San Luis Obispo
cultural capital
Place of the full moon
F
tsɨtqawɨ
Morro Bay
Place of the dogs
E
nipumuʔ
Nipomo
Place of the big house
G
tsɨtpxatu
Avila Beach
Place of the whales
The yakʔitʸutʸu residential community also includes an adjacent parking structure, large open spaces for outdoor activities, an amphitheater, a café, community rooms, and ample bike parking.

Multiple Residential Learning Communities are housed in yakʔitʸutʸu's seven residence halls, which vary in size from three to five stories and provide primarily triple- and quad- rooms. Each floor shares one to two common all-gender bathroom/s, depending on the size of the building.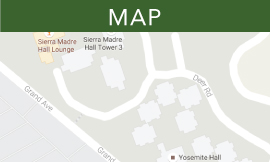 Staff
CSD (Coordinator of Student Development): Professional staff that live in the halls and supervise the RAs.
Resident Advisor (RA): Student peer leaders trained in safety and supervision and are on-call.
Front Desk: Student staff serve resident needs, answer questions and check out equipment. Your front desk is located in Building 172H (where admissions is located). 
Open M-F: 7 a.m. – 7 p.m., Weekends: 11 a.m. - 8 p.m.
Floorplans & Furnishings
Flooring: Carpet
Closet: Standalone Wardrobe
Compact refrigerator
Bed Size: 38" x 80" (twin extra long) 
One desk with drawers and chair for each resident
Small dressers 
Waste/recycle
Window coverings
All-gender community bathrooms
Amenities
WiFi
Community kitchen
Kitchen and game equipment for checkout
Daily cleaning service of bathrooms and common areas on weekdays
Free laundry
Serenity rooms
Purified water fill stations
Built-in outdoor grill
Bike racks
Vending machines
Access to microwaves in every building
Outdoor ping pong and cornhole games
Internet
WiFi is available through all interior residential spaces, including Community Centers and in rooms.
WiFi Options: Use Eduroam for general use with phones, laptops, mobile devices. Use CP-IoT for gaming consoles, SmartTVs, media devices, speakers.
Wired: Every room is equipped with wired Ethernet ports either on the wall or on an Aruba Access Point. Wall ports labeled (X) and (Y) are active and available for use.
For general assistance with technology and network access, visit sat.calpoly.edu or call 805-756-5600.
SpectrumU
Residents have access to 150+ channels, including premium stations such as HBO and sports networks, in community spaces and on personal devices. To get connected, visit sat.calpoly.edu/restech/tv.
Laundry
Laundry rooms are located on the first floor of each building. We have laundry monitoring so you can check for machine availability and get alerts when your laundry is done.
Phones
A landline phone is provided in each community center. For campus calls, dial the last five digits of the telephone number. Dial 7 + 1 + 805 + the number for off campus calls. Long distance calls require a calling card.
Mail
Mail and packages will be delivered to the Pacheco Post Package Center, located in yakʔitʸutʸu. Once your mail is received and processed, an email will be sent to your Cal Poly email address containing all pick-up information and locker codes.
YOUR MAILING ADDRESS
[Your Name]
[Mail Box #] Pacheco Way
San Luis Obispo, CA 93410
The Mailbox # is assigned separately by Distribution Services and is not your room number. This is emailed to you before you move in.
Proper addressing is essential to prompt delivery of mail and packages. Mail is not forwarded during breaks or once you move off campus
Related Content