yakʔitʸutʸu

 yakʔitʸutʸu is proudly named in honor of and in partnership with the Northern Chumash, the Indigenous Peoples of San Luis Obispo County. Each residential hall is named after yak titʸu titʸu yak tiłhini Northern Chumash tribal locations throughout the Central Coast region.
The seven halls are:
Name
Site 
Meaning
tsɨtkawayu
Cambria
Place of the horses
elewexe
Paso Robles
Named for swordfish
tšɨłkukunɨtš
Carrizo Plain
Place of the rabbits
tiłhini
San Luis Obispo
cultural capital
Place of the full moon
tsɨtqawɨ
Morro Bay
Place of the dogs
nipumuʔ
Nipomo
Place of the big house
tsɨtpxatu
Avila Beach
Place of the whales
The yakʔitʸutʸu residential community also includes a new Welcome Center, an adjacent parking structure, large open spaces for outdoor activities, an amphitheater, a café, community rooms, and ample bike parking.

Multiple Residential Learning Communities are housed in yakʔitʸutʸu's seven residence halls, which vary in size from three to five stories and provide primarily triple- and quad- rooms. Each floor shares one to two common all-gender bathroom/s, depending on the size of the building.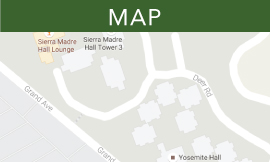 Address for Mail/Packages
Information about sending mail to students living in yakʔitʸutʸu will be available in summer 2018. Updated information will be available at Mail & Package Services.
Learning Community
Below are the Living Learning Community placements for the 2019-20 school year:

tsɨtkawayu: College of Science and Math
elewexe: College of Science and Math. PreMed
tiłhini: Mindful Living
tšɨłkukunɨtš: Asian and Pacific Islander Scholars, Mindful Living
nipumuʔ: Honors
tsɨtqawɨ: Mindful Living
tsɨtpxatu: Mindful Living, 24/7 Quiet, ROTC, Substance Free
Staff
Coordinators for Student Development
Full-time university staff provide students with leadership and support.
Anthony Luis
yakʔitʸutʸu
805-756-6936
Serafin Aguliar, Jr.
yakʔitʸutʸu
805-756-6937
Floorplans
Quad and triple rooms
are available in yakʔitʸutʸu. Floorplans vary between buildings. Photos of all room types are available in the album above.
Flooring: Carpet
Closet: Standalone Wardrobe
Compact refrigerator
Bed Size: 38" x 80" (twin extra long) 
One desk with drawers and chair for each resident
Small dressers 
Waste/recycle
Window coverings
All-gender community bathrooms
Amenities
WiFi
Community kitchen
Kitchen and game equipment for checkout
Daily cleaning service of bathrooms and common areas on weekdays
Free laundry
Serenity rooms
Purified water fill stations
Built-in outdoor grill
Bike racks
Vending machines
Access to microwaves in every building
Outdoor ping pong and cornhole games
Related Content