Cerro Vista Apartments
 
Perched at the base of the northeast hillside of campus, the Cerro Vista Apartment community overlooks Cal Poly, offering gorgeous views and easy access to nearby hiking trails. Each apartment provides direct outdoor access and has a full kitchen, living room common area, two suite-style bathrooms, and four private bedrooms. Apartment are separated by gender unless the student specifically requests gender-inclusive housing.
The Cerro Vista Apartments are made up of six adjoining residence buildings named after the hills which span from San Luis Obispo to Morro Bay:
• Morro
• Cabrillo
• Hollister
• Romauldo
• Islay
• Bishop
The community center includes a game room, study lounge, private study rooms, and a community kitchen.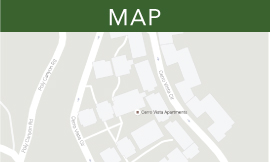 Staff
CSD (Coordinator of Student Development): Professional staff that live in the halls and supervise the RAs.
Resident Advisor (RA): Student peer leaders trained in safety and supervision and are on-call.
Front Desk: Student staff serve resident needs, answer questions and check out equipment. Your front desk is located in the Cerro Vista Community Certer. 
Open M-F: 7 a.m. – 10 p.m., S-S: 11 a.m. - 10 p.m.
Floor Plans & Furnishings
Cerro Vista Room & Furniture Dimensions
4 Person - Single Bedroom Apartments: Each bedroom is single-occupancy and contains a desk and chair. Four bedroom apartments house four residents. 
Bedrooms
• Flooring: carpet
• Closet: wardrobe
• Bed Size: 38" x 80" (twin extra long)
• Desks and chairs
• Dressers
• Waste/recycle/compost bins
• Window mini blinds
Bathrooms
• Two per apartment
• One has a bathtub/shower combo
• Shower curtain
• Towel bars
• Shower bars
• Wastebasket
• Toilet paper provided
Kitchen
• Hard-surface linoleum
• Full size refrigerator
• Sink with garbage disposal
• Microwave
• Cabinets
• Oven with stovetop
• One flip-leaf dining room table and two chairs
Living Room/Common Area
• Hard-surface linoleum
• Two-person sofa
• Two lounge chairs
• Coffee table
• Two end tables
• Two floor lamps
• Storage closet: built-in
Amenities
Secure keycard access
WiFi
Free laundry
Group and private study areas
Game equipment for checkout
Pool table
Foosball table
Table tennis
Piano
Purified water fill stations
Vending Area
Built-in outdoor grill
Bike racks
Internet
WiFi is available through all interior residential spaces, including Community Centers and in rooms.
WiFi Options: Use Eduroam for general use with phones, laptops, mobile devices. Use CP-IoT for gaming consoles, SmartTVs, media devices, speakers.
Wired: Every room is equipped with wired Ethernet ports either on the wall or on an Aruba Access Point. Wall ports labeled (X) and (Y) are active and available for use.
For general assistance with technology and network access, visit sat.calpoly.edu or call 805-756-5600.
SpectrumU
Residents have access to 150+ channels, including premium stations such as HBO and sports networks, in community spaces and on personal devices. To get connected, visit sat.calpoly.edu/restech/tv.
Laundry
Laundry rooms are located in Morro A409, Hollister C410 and Bishop E101. We have laundry monitoring so you can check for machine availability and get alerts when your laundry is done.
Phones
A landline phone is provided in each community center. For campus calls, dial the last five digits of the telephone number. Dial 7 + 1 + 805 + the number for off campus calls. Long distance calls require a calling card.
Mail
Mail sent by USPS will be delivered to your mailbox in Cerro Vista Community Center. Use the combination provided by Distribution Services to open your mailbox.
Turn left four times and stop at the first number. 
Turn right, passing the first number once and stop at the second number. 
Turn left and stop at the third number. 
Turn right slowly, and pull open.
Packages sent with a tracking number and requiring a signature are delivered to Canyon Post. Bring your email notice and a photo ID to retrieve your package.
YOUR MAILING ADDRESS
[Your Name]
[Mail Box #] Cerro Vista Circle
San Luis Obispo, CA 93410
The Mailbox # is assigned separately by Distribution Services and is not your room number. This is emailed to you before you move in.
Proper addressing is essential to prompt delivery of mail and packages. Mail is not forwarded during breaks or once you move off campus
Related Content