Cerro Vista Apartments
 
Perched at the base of the northeast hillside of campus, the Cerro Vista Apartment community overlooks Cal Poly, offering gorgeous views and easy access to nearby hiking trails. Each apartment provides direct outdoor access and has a full kitchen, living room common area, two suite-style bathrooms, and four private bedrooms. Apartment are separated by gender unless the student specifically requests gender-inclusive housing.
The Cerro Vista Apartments are made up of six adjoining residence buildings named after the hills which span from San Luis Obispo to Morro Bay:
• Morro
• Cabrillo
• Hollister
• Romauldo
• Islay
• Bishop
The community center includes a game room, study lounge, private study rooms, and a community kitchen.
Students wishing to stay on campus over winter break must request it during the application process and live in Cerro Vista Apartments during the fall quarter. For more on winter break housing, see Additional Housing Options.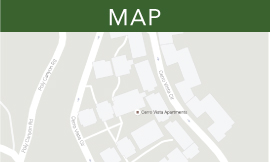 Address for Mail/Packages
Learning Community
Learning community locations are still TBD for 2020-21.
Staff
CSD (Coordinator of Student Development): Professional staff that live in the halls and supervise the RAs.
Resident Advisor (RA): Student peer leaders trained in safety and supervision and are on-call.
Front Desk: Student staff serve resident needs, answer questions and check out equipment.
Open M-F: 11 a.m. – 10 p.m., S-S: 11 a.m. - 12 a.m.
Floor Plans
Cerro Vista Room & Furniture Dimensions
4 Person - Single Bedroom Apartments: Each bedroom is single-occupancy and contains a desk and chair. Four bedroom apartments house four residents. 
Bedrooms
• Flooring: carpet
• Closet: wardrobe
• Bed Size: 38" x 80" (twin extra long)
• Desks and chairs
• Dressers
• Waste/recycle/compost bins
• Window mini blinds
Bathrooms
• Two per apartment
• One has a bathtub/shower combo
• Shower curtain
• Towel bars
• Shower bars
• Wastebasket
• Toilet paper provided
Kitchen
• Hard-surface linoleum
• Full size refrigerator
• Sink with garbage disposal
• Microwave
• Cabinets
• Oven with stovetop
• One flip-leaf dining room table and two chairs
Living Room/Common Area
• Hard-surface linoleum
• Two-person sofa
• Two lounge chairs
• Coffee table
• Two end tables
• Two floor lamps
• Storage closet: built-in
Amenities
Secure keycard access
WiFi
Free laundry
Group and private study areas
Game equipment for checkout
Pool table
Foosball table
Table tennis
Piano
Purified water fill stations
Vending Area
Built-in outdoor grill
Bike racks
Related Content