South Mountain Residence Halls

Located closest to the campus core, these residence halls are also known as the red bricks. All six halls have a game room, laundry room and study lounge as well as a front desk and community kitchen. Halls provide double- and triple-occupancy accommodations with community-style bath facilities. Each hall has three stories with two wings on each floor.  Rooms are same gender, floors are mixed gender, and bathrooms are separated by gender. One bathroom in each building is designated as gender inclusive.
The six halls are:
• Trinity Hall
• Santa Lucia Hall
• Muir Hall
• Sequoia Hall
• Fremont Hall
• Tenaya Hall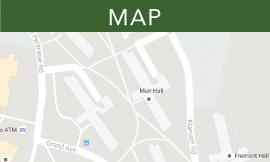 Check-in, Cancellations and Check-out
Check-in: Whether you are checking in with us at the start of the year or mid-year, you will receive a pre-arrival email with all of your check-in instructions. In the summer, we update our Mustang Move-in website with extensive move-in information including packing lists, maps and instructions. 
Room Condition Inventory: Within 72 hours of moving in, complete the Room Condition Inventory on your portal. It is important to do this so you are not charged for damage that wasn't your fault when you check-out at the end of the year. Here's how:
Log-in to your portal
Click on the University Housing tab
Click on the Room Condition tab
You will see a list of areas to review (your personal room, and any shared spaces in your apartment.) Click review for each area. Note: common areas will be viewable to all roommates but only needs to be completed by one.
Check each item in the list. If you agree with the condition, click agree.
If you do not agree with the condition, click more information, add a brief note about the problem (ex: the microwave isn't working), and do not click accept.
When you have completed the review of all items, click save review at the bottom.
Continue your review until you have completed all the items on the list. 
Cancellation Requests 
Students interested in canceling their housing contract must submit a cancellation form in the Housing Portal on MyCalPoly. Cancellations are accepted before move-in and throughout the year. A 30-day notice is required for all cancellation requests. 
If you think you will need to cancel your housing but haven't finalized your decision, go ahead and submit a request. Select the "Hold for Cancel" option to secure the date you gave notice while you make your decision. This will help you avoid lack of notice fees or minimize the amount you are charged. You can rescind your request, if needed by emailing us.  
When you cancel housing for an approved reason—and those are listed in the Housing Portal—the $500 initial payment that you made when you applied for housing is refunded. If you cancel to live off campus, the initial payment is not refunded.
Mid-year Check-out: When you are prepared to check-out, do all of these steps or you will be charged with an improper check-out:
Prep your room and move-out: clean, remove trash, put furniture back. Original furniture locations are in floor plans tab below.
Complete express check-out in your portal and include photo(s) of your clean room
Turn in your keys/access card to the express checkout box you indicated in the express checkout form. Make sure to write your info on the envelope provided.
End of year Check-out:
Prep your room and move-out: clean, remove trash, put furniture back. Original furniture locations are in floor plans tab below.
Complete Room Condition Form in Portal (instructions above)
Complete express check-out in your portal and include photo(s) of your clean room
Turn in your keys/access card to the express checkout box you indicated in the express checkout form. Make sure to write your info on the envelope provided.
Learning Community
The Residential Learning Community placements and locations for the 2022-23 school year are:
Fremont: CAED
Muir: OCOB
Santa Lucia: CENG
Sequoia: CENG
Tenaya: Floor 1: Leadership, Floor 2-3: OCOB
Trinity: OCOB
 
Staff
CSD (Coordinator of Student Development): Professional staff that live in the halls and supervise the RAs.
Resident Advisor (RA): Student peer leaders trained in safety and supervision and are on-call.
Front Desk: Student staff serve resident needs, answer questions and check out equipment. Your front desk is located in Trinity Hall. The front desk is open 8 a.m. - 9 p.m. on weekdays and 10 a.m. - 9 p.m. on weekends. Housing Admin (Bldg. 31) is open weekdays, 8 a.m. - 5 p.m.
Floor Plans & Furnishings
 Dimensions & Floorplans for South Mountain 
• Flooring: Carpet
• Closet: Wardrobe
• Compact refrigerator: in room
• Microwave: on each floor
• Bed Size: 38" x 80" (twin extra long)
• Desk and chair
• Small rolling file cabinet
• Chest of drawers
• Waste/recycle/compost bins
• Window coverings
Amenities
Secure keycard access
WiFi
Community kitchen
Kitchen and game equipment for checkout
Daily cleaning service of bathrooms and common areas on weekdays
Free laundry
Study area
Pool table
Foosball table
Table tennis
Piano
Purified water fill stations
Vending Area
Basketball courts (behind Sierra Madre Hall and at yakʔitʸutʸu)
Volleyball courts (at yakʔitʸutʸu)
Disc golf (behind Sierra Madre Hall)
Built-in outdoor grill
Bike racks
Access
Use the access card to enter your building. The hard key accesses your bedroom.
For lockouts during business hours: 
Contact Trinity Front Desk 806-756-5670 
Access card replacements are available at Bldg. 31, Cerro Vista or PCV. 
After hours, contact the Resident Advisor on-call for assistance with lockouts.
Help keep our community safe—don't loan your personal access card and key to others..
Internet, Streaming T.V. and Phones
Internet
WiFi is available through all interior residential spaces, including Community Centers and in rooms.
WiFi Options: Use Eduroam for general use with phones, laptops, mobile devices. Use CP-IoT for gaming consoles, SmartTVs, media devices, speakers.
Wired: Every room is equipped with wired Ethernet ports either on the wall or on an Aruba Access Point. Wall ports labeled (X) and (Y) are active and available for use.
For general assistance with technology and network access, visit tech.calpoly.edu or call 805-756-7000.
Streaming T.V.
Residents have access to 150+ channels, including premium stations such as HBO and sports networks, in community spaces and on personal devices. To get connected, visit sat.calpoly.edu/restech/tv.
Phones
A landline phone is provided in each community center. For campus calls, dial the last five digits of the telephone number. Dial 7 + 1 + 805 + the number for off campus calls. Long distance calls require a calling card.
Laundry
Laundry rooms are located on the first floor of each wing.We have laundry monitoring so you can check for machine availability and get alerts when your laundry is done.
Mail
Mail and packages will be delivered to the Pacheco Post Package Center, located in the yakʔitʸutʸu complex. Once your mail is received and processed, an email will be sent to your Cal Poly email address containing all pick-up information and locker codes.
YOUR MAILING ADDRESS
[Your Name]
[Mail Box #] Klamath Rd.
San Luis Obispo, CA 93410
The Mailbox # is assigned separately by Distribution Services and is not your room number. This is emailed to you before you move in.
Proper addressing is essential to prompt delivery of mail and packages. Mail is not forwarded during breaks or once you move off campus
Facility and Technology Maintenance Requests
For assistance with all facility-related issues (i.e. furnishings, room conditions, plumbing, electrical, etc.) complete a Maintenance Service Request on your Cal Poly Portal, Housing Tab. Please submit your request as early in the day as possible so it may be directed to the appropriate channel.
For assistance with all technology-related issues (internet, streaming T.V., connection issues, etc.) reach out to ResTech.
Sustainability Practices
In alignment with the campus sustainability goals, University Housing is working to be more sustainable by offering these services in our communities:
Move-out donation and recycling bins
Compost and recycling bins in every community
Clothing drives
Water filtration systems
Related Content