South Mountain Residence Halls

Located closest to the campus core, these residence halls are also known as the red bricks. All six halls have a game room, laundry room and study lounge as well as a front desk and community kitchen. Halls provide double- and triple-occupancy accommodations with community-style bath facilities. Each hall has three stories with two wings on each floor.  Rooms are same gender, floors are mixed gender, and bathrooms are separated by gender. One bathroom in each building is designated as gender inclusive.
The six halls are:
• Trinity Hall
• Santa Lucia Hall
• Muir Hall
• Sequoia Hall
• Fremont Hall (currently closed)
• Tenaya Hall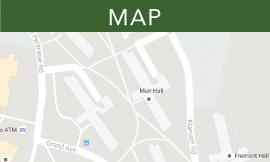 Address for Mail/Packages
Floor Plans 
2019-20 Dimensions & Floorplans for South Mountain 
• Flooring: Carpet
• Closet: Wardrobe
• Compact refrigerator: in room
• Microwave: on each floor
• Bed Size: 38" x 80" (twin extra long)
• Desk and chair
• Small rolling file cabinet
• Chest of drawers
• Waste/recycle/compost bins
• Window coverings
Learning Community
Below are the Living Learning Community placements for the 2020-21 school year:
Trinity: TBD
Santa Lucia: TBD
Muir: TBD
Sequoia: TBD
Tenaya: TBD
Staff
CSD (Coordinator of Student Development): Professional staff that live in the halls and supervise the RAs.
Resident Advisor (RA): Student peer leaders trained in safety and supervision and are on-call.
Front Desk: Student staff serve resident needs, answer questions and check out equipment.
Open M-F: 11 a.m. – 10 p.m., S-S: 11 a.m. - 12 a.m.
Amenities
Secure keycard access
WiFi
Community kitchen
Kitchen and game equipment for checkout
Daily cleaning service of bathrooms and common areas on weekdays
Free laundry
Study area
Pool table
Foosball table
Table tennis
Piano
Purified water fill stations
Vending Area
Basketball courts
Volleyball court
Built-in outdoor grill
Bike racks
Related Content