Sierra Madre & Yosemite Residence Halls
Located on the southeast end of campus, these residence halls are also known as the towers. Both Sierra Madre and Yosemite have a large community center and 16 stand-alone residence buildings: six residence buildings for Sierra Madre and 10 for Yosemite. Halls provide double- and triple-occupancy accommodations with community-style bath facilities. Bedrooms and bathrooms are separated by gender unless the student specifically requests
gender inclusive housing.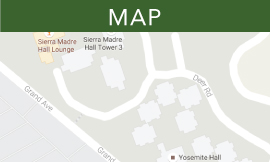 Staff
CSD (Coordinator of Student Development): Professional staff that live in the halls and supervise the RAs.
Resident Advisor (RA): Student peer leaders trained in safety and supervision and are on-call.
Front Desk: Student staff serve resident needs, answer questions and check out equipment. Your front desk is located at the Sierra Madre Community Center. 
Open M-F: 7 a.m. – 7 p.m., Weekends: 11 a.m. - 8 p.m.
Floor Plans & Furnishings

Floors Plans, Dimensions & Furnishings: Sierra Madre
Floors Plans, Dimensions & Furnishings: Yosemite


• Flooring: Carpet
• Closet: Built-in and an additional wardrobe for triples
• Compact refrigerator: in each room
• Microwave: in tower common area, one on each floor
• Bed Size: 38" x 80" (twin extra long)
• One desk with drawers and chair for each resident
• Chest of drawers
• Waste/recycle/compost bins
• Window coverings
Amenities
Secure keycard access
WiFi
Community kitchen
Kitchen and game equipment for checkout
Daily cleaning service of bathrooms and common areas on weekdays
Free laundry
Study area
Pool table
Foosball table
Table tennis
Piano
Purified water fill stations
Vending Area
Basketball courts
Volleyball court
Built-in outdoor grill
Bike racks
Access
Sierra Madre:
Use the access card to enter your building and Community Center. The hard key accesses your bedroom.
Yosemite:
Use the access card to enter your building and Community Center. Use the hard key to access your stairwell, study lounge and bedroom.
Lockouts during business hours:
» Contact Sierra Madre Front Desk 805-756-5650.
» Access card replacements are available at Bldg. 31, Cerro Vista and PCV.
After hours, contact the Resident Advisor on-call for assistance with lockouts.
Help keep our community safe — don't loan your personal access card and keys to others.
Internet
WiFi is available through all interior residential spaces, including Community Centers and in rooms.
WiFi Options: Use Eduroam for general use with phones, laptops, mobile devices. Use CP-IoT for gaming consoles, SmartTVs, media devices, speakers.
Wired: Every room is equipped with wired Ethernet ports either on the wall or on an Aruba Access Point. Wall ports labeled (X) and (Y) are active and available for use.
For general assistance with technology and network access, visit sat.calpoly.edu or call 805-756-5600.
SpectrumU
Residents have access to 150+ channels, including premium stations such as HBO and sports networks, in community spaces and on personal devices. To get connected, visit sat.calpoly.edu/restech/tv.
Laundry
Laundry rooms are located on the first floor of each tower in Sierra Madre and on the first floor of Yosemite Towers 0, 2, 4, 5, 7 and 9. We have laundry monitoring so you can check for machine availability and get alerts when your laundry is done.
Phones
A landline phone is provided in each community center. For campus calls, dial the last five digits of the telephone number. Dial 7 + 1 + 805 + the number for off campus calls. Long distance calls require a calling card.
Mail
Mail and packages will be delivered to the Pacheco Post Package Center, located in the yakʔitʸutʸu complex. Once your mail is received and processed, an email will be sent to your Cal Poly email address containing all pick-up information and locker codes.
YOUR MAILING ADDRESS
[Your Name]
[Mail Box #] Pacheco Way
San Luis Obispo, CA 93410
The Mailbox # is assigned separately by Distribution Services and is not your room number. This is emailed to you before you move in.
Proper addressing is essential to prompt delivery of mail and packages. Mail is not forwarded during breaks or once you move off campus
Related Content